Biography: Brad Knowles
Abridged Bio for Brad Knowles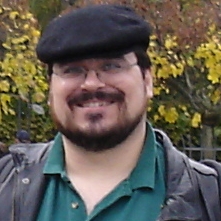 My wife and I moved to Austin (Texas) in March of 2006, and we've been slowly putting our lives back together, after having lived in Brussels (Belgium) for almost eight years. This has been a pretty big adjustment, and so far we've taken some time to get our health into better shape, being able to spend time with our families, getting our financial situation clearly defined, etc....

I was most recently employed as a Senior Consultant for Snow BV, a leading Internet/Unix consulting company in the Netherlands. Prior to that, I was employed as the Systems Architect for Belgacom Skynet SA/NV, the largest residential ISP in Belgium. Previous employers have included Collective Technologies (as a Unix Consultant and Senior Process Consultant for sendmail, DNS, and BIND) and America Online as their Senior Internet Mail Systems Administrator.

Ideally, I would find employment with a consulting company (like what Collective Technologies used to be), which would allow me to do a wide variety of different types of work at different customer sites, while continuing to have a standard salary with typical employment benefits (like insurance). However, I am starting to wonder if I will be forced to start my own consulting company, in order to do the kind of work I like doing, and keeping myself adequately interested and entertained. I fear that if I want that, then I'm going to have to do it for myself.

Meanwhile, I am currently volunteering time and effort in helping the Network Time Protocol (NTP) Project, as their Mail Systems & Mailing List Administrator, and PGP Keymaster, as well as similar work for Python.org and the Mailman mailing list management package.

The booklet Internet Postmaster: Duties & Responsibilities for SAGE has recently been published, and I also have a book idea that I've been working on for a couple of years. Slides from the invited talks that I've given at various conferences over the years can be found on my Papers page. My full LinkedIn profile is also publicly available. So are my Flickr stream, and my online videos (via YouTube).




My first bio spoke of almost nothing else but my current and previous jobs. Being an obvious workaholic, I won't bore you with the details here. I will tell you I have a BSCS (1990) from the College of Engineering at the University of Oklahoma, and I didn't really appreciate the quality of my education until I left school and went out into the "real world." I find it truly amazing (and very disheartening) to see people reinvent the wheel so many times, and do such a poor job when they do so.

Anyway, taking a page from other bios I've seen, here's a list of some of my favourite things:
Most favourite thing in the world: My wife (gee, big surprise there ;-).
Second most favourite thing in the world: Our cats (no surprise, either ;-).
Everything else:
Spelling: British, in most cases. You know, "Proper Oxford English" and all that.

Colour(s): Green and Purple. But Black and Gold or Black and Red or Black, Red, and Gold all make a pretty cool combinations as well.

Music: Ecclectic. So far as I know, there is no category of what I consider "music" of which I cannot find some examples that I like (I am more selective in certain categories than I am in others). However, I do not consider "rap" or "hip-hop" to be music. One group in particular that I like is Yello, the group that did the song "Oh, Yeah" from the movie Ferris Bueller's Day Off. But I knew them long before then. More recently, I've started to appreciate the Dixie Chicks a lot more, as well as Neil Young. Yes, their most recent albums have had a lot to do with that, for certain obvious political reasons. See also my Music page.

Clothes: "Dockers" style jeans or slacks & polo/tennis shirts. It's been a very long time since I wore anything else. I can hardly remember those days.

Pets: Cats. I've gotten a lot of complaints about this, but I prefer cats. See my Cats page for interesting and useful links, as well as my Online Cat Photo Gallery.

Soft Drink: Coke Zero -- Diet Coke Done Right.

Of course, I should avoid caffeine because it's an appetite stimulant.

In fact, soft drinks as a whole should be avoided, since all those extra chemicals in your body are very hard on your kidneys. I also discovered many wonderful teas that they served in Europe, and I've been trying to use coffee to get away from drinking quite so many sodas. I've been learning a lot about coffee from the Coffee Geek website, and I've bought a burr grinder, as well as a Capresso automatic drip coffee machine. I know that ADC is not the best, but I figure it's good enough to start with, and the Capresso and the burr grinder are likely to be better than I am capable of distinguishing, taste-wise. Of course, you want to make sure you do Organic, Free-trade, shade-grown coffee. That's easier to find than you might think (at least, here in Austin), but it's not cheap.

Finally, I've still got to kick the "sweet" habit. Okay, I don't use sugar anymore (or honey), because I'm diabetic. But I do use a hell of a lot of Splenda (a.k.a., Sucralose), and all those chemicals can't be good for you.

Pizza: I don't really eat pizza much anymore. Between the ultra-high amount of carbs (which are bad for diabetics), and the fact that I have yet to find a single place here in Austin that serves decent pizza, I've just completely lost my taste for it.

Food: Sushi (when I'm in the mood), Thai (Pad Thai, not the spicy stuff), Chicken Salad (salad with other vegetables and cubes of chicken breast, especially with a little BBQ sauce), and a few other things that I can't really think of at the moment.

Car: In Europe, we had a BMW 520i (at the time, my wife's company car). I became a devout BMW fan. At the time, they were most definitely the premier auto manufacturer, making the world's best cars. I finally realized the positive comparison between them and the Macintosh. Of course, they then went and completely screwed everything up by saddling all their vehicles with "iDrive". I guess I'm never driving another BMW ever again.

These days, we drive a Nissan Altima 2.5S and a Lexus RX330. I never thought I'd own an SUV, and never understood the attraction. I thought that anyone who owned or drove an SUV was automatically Evil-with-a-capital-E, and was personally responsible for helping to destroy the planet. As far as I was concerned, these kinds of people were a perfect example of what was wrong with America.

But Austin has some real Hills -- that's Hills-with-a-capital-H. This is why Lance Armstrong has trained here for all the years he was doing the Tour de France. That also means that there are more than a few places where the roads tend to flood out. So, a vehicle with some road clearance is a Really Good Thing. You also want something with decent entry and exit angles -- hell, even some of the driveways around here can be pretty challenging, if you're in the wrong vehicle. You don't need 4WD unless you're actually going off-road, but AWD and electronic traction control are virtual necessities, so that you make sure you've got at least a Snowball's Chance of staying on the road during those freak ice storms that shut down the entire region for a week (like, the one that happened in January of 2007). Not to mention the fact that the roads get pretty slick when it rains, and if you try to take one of those Hills in the rain, you can have some real problems. Of course, you also want something that is comfortable to drive long distances, because Texas is damn bloody big -- something like nineteen hours to drive end-to-end, whereas we got used to driving two hours any direction and we'd be completely out of the Country. And you want reliability, and fuel economy. Oh, and it would be nice if it held it's value reasonably well, so that if we decided to sell it after a few years of ownership, we'd still be able to make back a decent amount on our investment.

Even with just half of these constraints, you'd be lead straight to the Lexus RX -- check Consumer Reports. We did. We were amazed.

And it turns out that you can buy a still-relatively-new certified pre-owned Lexus RX330 for about the same price as a brand-new Toyota Avalon (the top-end sedan for the Toyota brand, which shares a platform with the Lexus LS), but with better features and won't lose significant value just from driving it off the lot. Fortunately, there have been a lot of RX330 owners that have been trading them in for the RX400h Hybrid, which means that prices on the RX330 are much lower now than they were even a year ago, even though they generally hold their value better than any other brand on the planet.

Hobbies: Blacksmithing
And a few preferences on computer-related topics:
Programs:



Newsreader: This term no longer means what it used to, at least not to most people. I don't really read USENET news anymore, and I'm still working on finding a good RSS reader.

I want something that understands the concept of "sort | uniq" at a semantic level, and so far I haven't found anything yet that fits this mold -- not FeedRinse, FeedMix, BlastFeed, xFruits, RSSMix, KickRSS, RSSMesh, FeedBlendr, Yahoo! Pipes, nor Google Reader seems to be able to achieve that. Of course, there are still a lot more RSS tools at 3spots and otavo that I have not yet gone through -- maybe one of them will do what I want, or at least be something I can combine with Yahoo! Pipes to create something closer to what I want.

Mail User Agent: mutt. This is the premier PGP/MIME MUA, originally written by the guy who wrote the PGP/MIME spec (Mike Elkins).

I keep saying that I'm going to be switching from Eudora 6.0 to mutt as soon as I can figure out how to convert multiple gigabytes of e-mail archives going back to 1995 (and earlier), but it hasn't happened yet. I have recently heard that Qualcomm will be killing Eudora as a separate project, and the next major release will instead be a re-badged version of Mozilla Thunderbird, so I am going to have to decide pretty soon just exactly what I'm going to do and when.

I mean, if I wanted to use Thunderbird, then I'd already be using Thunderbird.

Web Browser: Safari.

I'll also use FireFox, and sometimes Opera, or OmniWeb. I still have my copy of iCab, but I haven't used it in well over a year.

Under no circumstances do I use any browser created by Microsoft, especially since they discontinued support of Internet Explorer for MacOS X. Wanna talk about a feeling of immense vindication?

Joke: A tie -- ActiveX and WordBasic (nee' "Visual Basic for Applications").


The reason is very simple. It's something called "Security". These two products are inherently insecure, by design. If Microsoft were to try and "correct" these security holes, that would remove the very functionality that Bill Gates wants to ensure that everyone in the world has. In other words, he literally believes in a statement he made that "What's mine is mine and what's yours is mine, too", and he's out to guarantee that he owns the whole world by ensuring that he can do with your machine whatever he pleases, whenever he pleases.

Not far behind is JavaScript, source of many other security holes on the Internet. What really kills me is that there are so many sites that insist on using JavaScript, when there is no real valid reason for doing so, other than the fact that they're stupid bloody idiots with AJAX-on-the-brain, and aren't competent to design a proper web page that only depends on server-side components, and is therefore mostly immune to Cross-Site Scripting (XSS) attacks.

Remote Access: xDSL, although cablemodems are acceptable in places where your xDSL service sucks. FiOS and FTTH have promise, but so far as I've seen, they have yet to actually deliver here in the US, at least beyond a trivially small community of testers.

Server OS: Unix, specifically Berkeley (derived). For example, FreeBSD, NetBSD, or OpenBSD.

As much as I despise System V, I have to admit that HP-UX 9.04 was the most stable production Unix OS I've ever seen in high-load environments.

Sadly, Digital Unix/Tru64 has really fallen by the wayside, and I am now forced to admit that Solaris is probably the most practical commercial Unix implementation, although still not my favourite.

If/when MacOS X Server ever starts actually delivering on the potential it has, it could quickly become my favourite server OS.

Desktop OS: MacOS X. Nothing else in the mass market is as easy to use or empowers the user better. Period.

Apple has finally delivered all the power of Unix, with all the ease of use of the Macintosh, perhaps finally atoning for previous forays into this area (e.g., A/UX, MachTen, and MkLinux).

SMTP MTA: Tie -- version 8 sendmail and postfix.

In my experience, sendmail it is the most scalable Internet mail server around, especially when you start adding features like scanning incoming e-mail for viruses or spam -- nothing else compares. However, it is based on older code, uses a monolithic security model, takes more work to get initially configured for large-scale use, and takes more care-and-feeding to keep running (as compared to postfix), if you're at a small or medium size site. But when you need the most scalable MTA on the planet, you can't beat sendmail with a stick.

Of course, postfix has a lot to commend it -- it is incredibly fast, by default works in a way that is nearly ideal for handling mailing lists, default secure out-of-the-box, has a configuration file syntax that is easily understood and managed by normal human beings (and can be truly useful with a two-line configuration file), and is designed to be as much of a 100% drop-in replacement for sendmail as possible. If you're running a small or medium-size site, odds are good that postfix may be your best choice.

However, if you want to do something for which the capability was not thought of by the programmers and built into the configuration file syntax, you have a hard road ahead of you. When it comes to using external filters to process incoming e-mail (e.g., for spam or viruses), it is considerably slower and less scalable than sendmail, even though Wietse has finally added support for the milter technology -- especially if you want to do that filtering before the message is accepted, so that you can decide whether or not to reject it, and not have to deal with trying to handle a potential bounce.

More recent versions of sendmail have added new features that seriously erode some of the classic reasons why you might have wanted to consider something else, and when you add their best-in-class mail filtering technology (milter), there is no contest.

Another one that is looking good is Exim. I don't have much personal experience with it yet, but everything I've heard about it is good, the author seems to be very approachable and amenable to suggestions, and the overall design seems reasonable.

Don't even think of trying to use anything but a decent Unix or workalike OS (the more it looks and feels like real BSD, the better). They may get you 80% of the way there, but the 80-20 rule teaches us that the first 80% is easy, and it's the other 20% that ends up taking 80% of your effort. It's also that last 20% that frequently means the difference between beating your competitor or them beating you; having a job or not having one.
If you want to get in touch with me, the best way is probably by email. Except for when I go on vacation or business trip, I'll probably read my email several times a day and would be most likely to get you back a reasonable response that way.